Holy Monastery of Agiou Panteleimonos
The Monastery was founded before the end of the 10th century in the mountain location now occupied by Old Monastery. It was also called the Monastery of the Thessalonica. In 12th century the monastery was almost abandoned and at that point monks, mostly of Russian origin moved in from the monastery of Xilourgos (today Skiti Bogoroditsa), which was overpopulated then.
From that time the monastery officially took name of Panteleimon and unofficially the monastery of Ruson (monastery of Russians). In 14th century the monastery was raided by Mercenaries of the Catalan Grand Company, but was then financially supported by the Serbian rulers. Many monks from Serbia arrived to the monastery. Until 1740 Russian monks were dominating and the spoken language in the monastery was Slavic.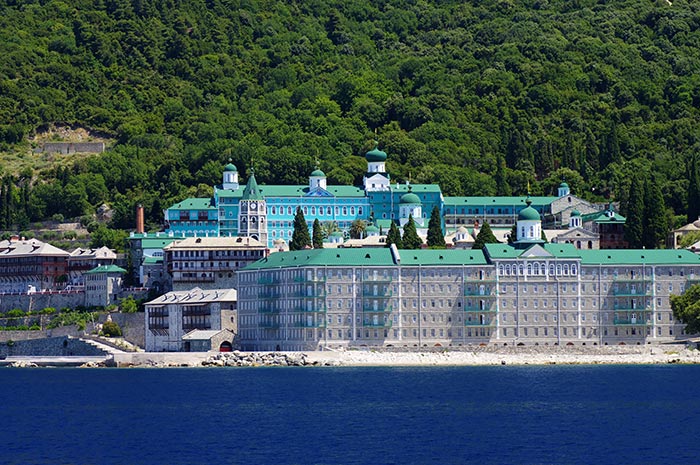 In 1765 the monks began to abandon the old monastery to found a new one on the coast. The monastery was built at the beginning of the 19th century with funds supplied by the ruler Moldo-Wallachia Scarlatos Kallimachis. The patriarchal charter of 1803 states that the foundation be called the "Sovereign Coenobium of the Killimaches". From 1840 the monastery again accepted Russian monks, who came to predominate in 1875, when they elected a Russian abbot.
Great efforts were made to Russify the monastery, even appearance, with the result that today it differs architecturally from the other Athonite monasteries. Until 1902 in the monastery were living more than 2000 Russian monks. The Trapeza of the Panteleimon easily sits and today over 1000 persons. There was a hospital and a school for monks and laymen.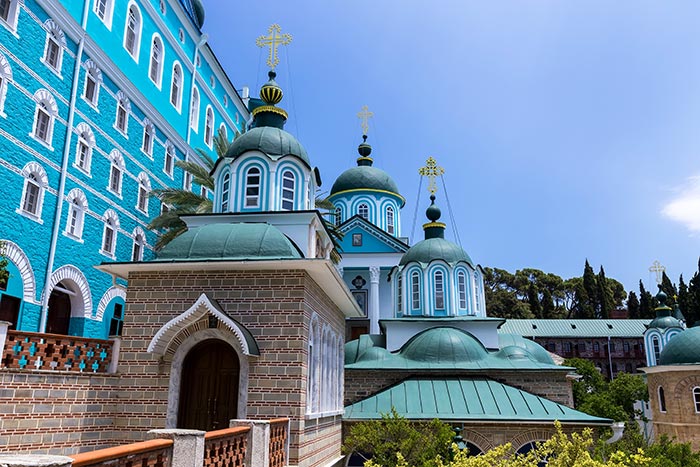 In 1913, the monastery was the site of a raging theological argument (Imiaslavie) among Russian monks, which led to tsarist Russian intervention and the deportation of approximately 800 of the monks on the losing side of the debate.
The decline of the monastery came after the revolution in Russia in 1917. The number of the monks shrunk drastically. By the middle of the 20th century around 50 monks were left in the monastery. The monastery's Katholikon (main church) was built in 1812–1821 and is dedicated to St. Panteleimon.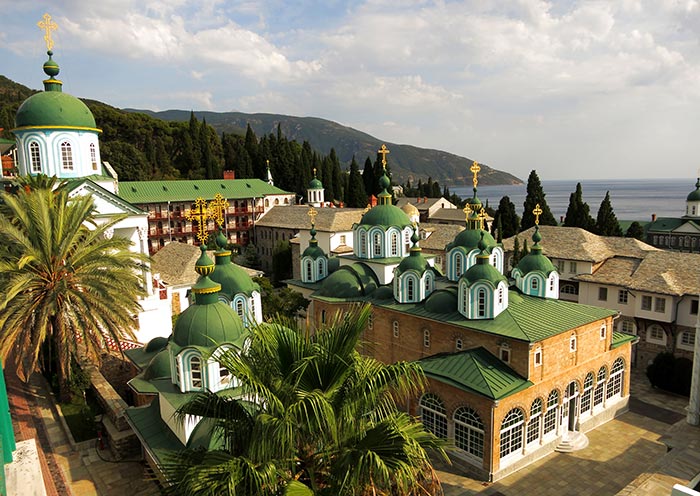 It features the same style found in all the Athonite churches. Aside from the Katholikon, the monastery has many smaller chapels. The chapel of Aghia Skepi is gilded with rich decorations in baroque style. The services are held only in Slavic language, when in Katholikon Greek is used as well.
The library is housed in a separate building in the monastery's court. It contains 1,320 Greek manuscripts and another 600 Slavonic ones, as well as 25,000 printed books. In addition, the library has a few priceless relics, such as the head of Saint Panteleimon, one of the most popular saints in Russia. The 19th-century monastery bells are the largest in Greece. The monastery has jurisdiction over the Skiti of Bogoroditsa.