Holy Monastery of Agiou Pavlou
The monastery was founded shortly before 980 and was called Agios (Saint) Paul's or Xiropotamos. The founder has been the prominent monk Paul Xiropotamos, who also founded the Monastery of St Nicephorus, also, and still, known as Xiropotamos. The monastery was initially small and poor, in addition suffered numerous raids of pirates. In the 14th century Agios (Saint) Paul's was reduced to a cell dependent on the Monastery of Xiropotamos, but around 1365 it was bought by the Serbian monk Antonios Pagasis, restored to the status of a monastery.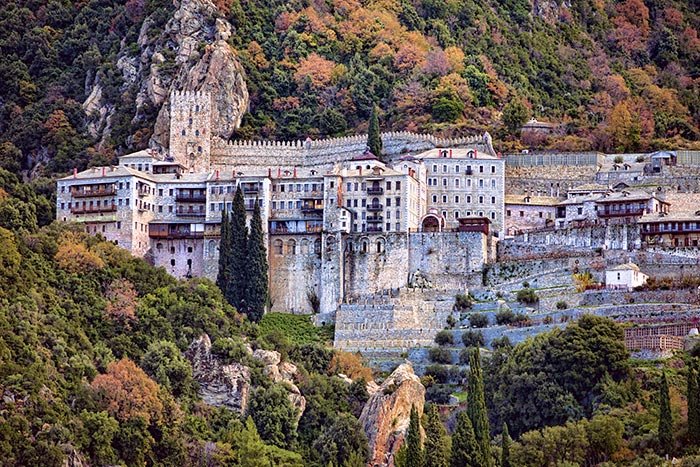 With the generous help coming from the noble families of Serbia the monastery flourished and the number of monks reached 200. The monastery was richly endowed by the Serbian princess Mara Bragovic, wife of the Sultan Murat II and step-mother of Mohammed the Conqueror, who took Constantinople in 1453.
The Katholikon, dedicated to the Presentation of Our Lord, was built between 1839 and 1844, and is one of the finest examples of modern Greek church building its marble chancel screen was crafted by the marble sculptors of Tinos. The chapel of St George is decorated with wall-paintings dating to 1555.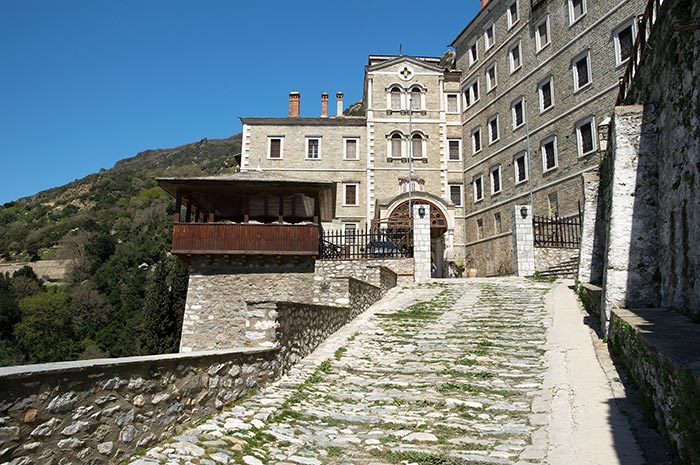 Agios (Saint) Paul's greatest treasures are the Gifts of the Magi, presented to the monastery by the Sultana Mara, and a carved wooden cross with incorporated miniatures. Agios (Saint) Paul monastery has jurisdiction over New Skiti and the Skiti of Lakkos (St Demetrios of the Ravine).