Holy Monastery of Dionysiou
The Holy Monastery of Dionysos, or 'Nea Petra', stands on a narrow and precipitous rock at a height of 80 meters above the sea. The monastery was founded 1362 by Hosios Dionysios of Korysos near Kastoria, with much toil and in the face of many difficulties, managed to gather the resources to build the walls of a fortress and a tower.
His efforts were supported by the generous sponsorship of Alexius III Comninos, Emperor of Trebizond, who was encouraged in this by the Metropolitan of the city, Theodosius, who was Dionysios' brother. This policy of lavish sponsorship of the Monastery was continued by the Palaeologus Emperors and later by many Princes of Moldo-Wallachia.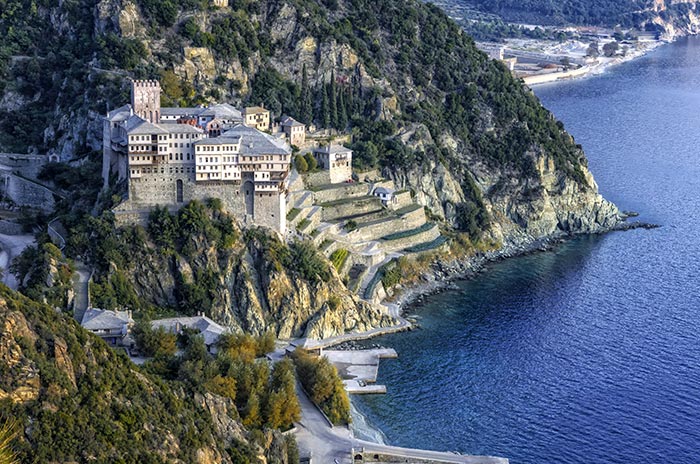 The 25 meters-high tower was built in 1520, but the greater part of the monastery was destroyed by fire in 1535. The Katholikon, dedicated to the Birth of John the Baptist, and is built in 1347, was restored after the fire. The wall-paintings of the Apocalypse, the oldest complete portrayal of the Apocalypse in the Orthodox world.
Its unusual Typikaria (sanctuary) is the oldest of their kind on Mount Athos. The wall-paintings of 1546/47 are by the famous painter Tzortzis (Cretan school iconography). The treasury contains the ivory relief of the crucifixion, the cross of Helena Palaeologus and many other noteworthy relics.