Holy Monastery of Docheiariou
The monastery was founded in the 10th century by monk Euthymios, who was a dochiaris (storekeeper) of the monastery of Megisti Lavra. The monastery was contributed by several Byzantine emperors. Until the 14th century it experienced great prosperity, but it came to an end in the following centuries due to pirate raids.
In 16th century the monastery came back to life with the generous help of the rulers Moldo-Wallachia. During the Ottoman rule, the monastery was raided and lost almost all its treasures. The present katholikon was built in the 16th century, with wall-paintings of 1568 attributed to the painter of Cretan school Tzortzis. The narthex iconography is of 19th century.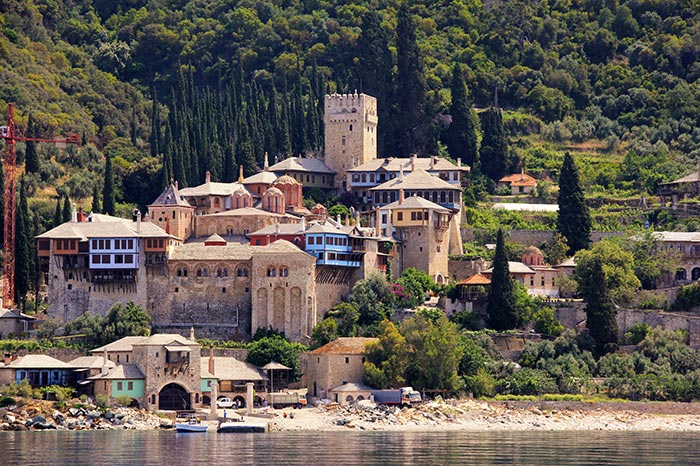 The monastery's greatest treasure is the miraculous icon of the Virgin known as the Gorgoepikoos ("She who is Quick to Hear"). According to tradition the icon was placed on the way to Trapeza (refectory) and every day the Trapezaris (monk responsible for refectory) was passing by it with his torch. The voice came from the icon asking him not to do it as the smoke of the torch was going on the icon.
The monk did not pay attention to this voice, which came out of the icon again sending him blindness. The monk, blind then, was spending his days in front of the icon and praying for forgiveness. The Virgin heard him, third time the voice came out of the icon and his sight returned. The chapel to the virgin was built on that place, where today the miraculous icon can be found.
Also of great value is the inscribed bronze processional cross, an 11th century work. The monastery also possesses notable antiquities.