Holy Monastery of Karakallou
It was founded in the 11th century. It took the name of his founder, an unknown monk Karakalos, which by that time was a very common Byzantine name. In the 13th century, as a result of the activity of Arab and Latins pirates, Karakalos was totally deserted. In 15th, 16th century the monastery came back to live with many monks arriving from different parts of the Balkans.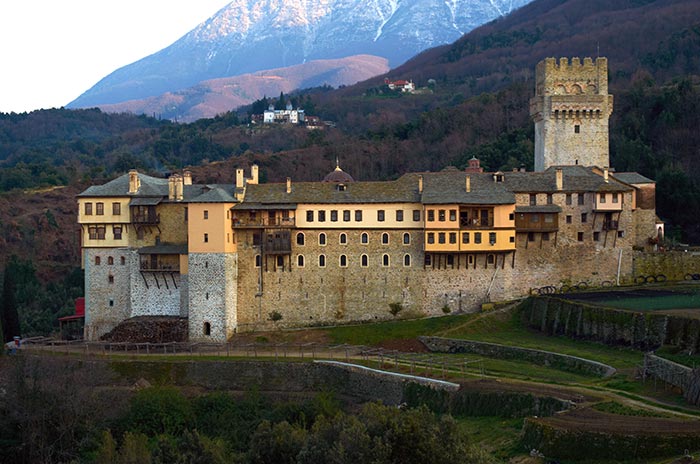 By the end of the 15h century according to the Russian pilgrim Isaiah, the monastery was Albanian. The monastery was rebuilt in the 16th century by Moldavian voivode Peter IV Rareș.
During the rule of Ottoman Empire monks did not have good relations with Turkish rule, as a result of their activities, the abbot of the monastery Damaskinos in 1854 was exiled by Turks from Mount Athos.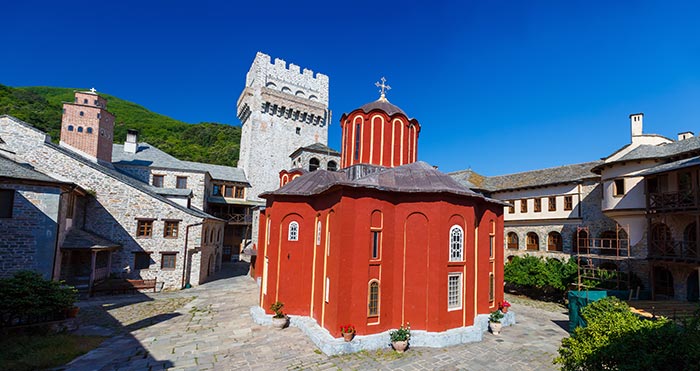 Today the monastery being not very large, is one of the most beautiful in peninsula. Its tower, the tallest in Agion Oros is named after Saint Paul. The Katholikon of the monastery is built in 1548 with beautiful iconography, the Holy Doors paintings in the Katholikon are by Theophanes the Cretan, the rest of the paintings belonging to 18th century. The monastery's library holds 330 manuscripts, and about 3,000 printed books.