Holy Monastery of Koutloumousiou
The monastery was founded before 1169, when it is first mentioned in records. It is named after one Koutloumous (Turko-Persian Seljuk by origin) who becoming a Christian came to Holy Mount to save his soul. It was in its early days the smallest monastery of the Holy Mount.
During the second half of the 14th century, when Chariton of Imbros was abbot, the monastery was generously endowed and restored by the princes of the lands along the Danube. Although Chariton became metropolitan of Hungro-Wallachia in 1372, he continued to hold the office of abbot at Koutloumous endowing the monastery and regulating relations between its Greek and Romanian monks.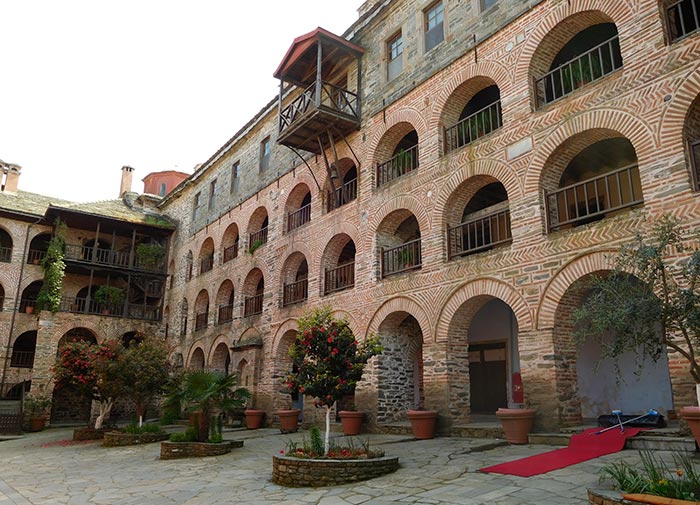 The Katholikon, dedicated to the Transfiguration, was built in the second half of the 14th century and was frescoed in 1744. The chapel of the Dreadful Presentation housing the miraculous icon of the same name was built in 1733. The icon presents a child Jesus, afraid and holding Virgin Mary's hand, as he is watching an angel showing to him the items with which he will be tortured and will die.
The monastery has jurisdiction over the nearby Skiti of St Panteleimon known as Koutloumousiani, and the cell of Forerunner (Prodromou) at Karyes, founded by Dionysios of Fournas. Among the treasures of the monastery is the purported largest relic of the True Cross. The monastery's library contains 662 manuscripts and approximately 3,500 printed books.