Holy Monastery of Osiou Gregoriou
The monastery was named after an ascetic Gregory of Mount Athos and was founded in the 14th century. Over the next several centuries little is known about the monastery other than that it suffered serious damage from raiders and in 1761 from a fire. A Monk who survived abandoned the monastery. Barsky, an eighteenth century Russian visitor, observed that fire had destroyed many of the heirlooms and documents then held by the monastery. Restoration work at Gregorios monastery that had been accomplished over the years was supported by various benefactors including the princes of Moldavia, Phanariotes, archbishops of Hungro-Wallachia.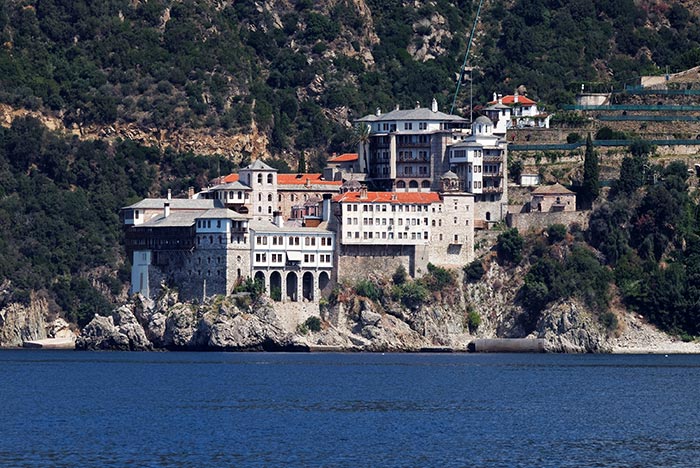 The Katholikon, dedicated to St. Nicholas, was built in 1768 and follows the Athonite style. The frescos in the Katholikon were done in 1779 by the icon painters Gabriel and Gregory from Kastoria. The frescos present scenes from the Old Testament. A narthex was added to the Katholikon in 1846.
The monastery also contains ten chapels as well as four cells in the administrative center Karyes. It was restored in the second half of the 18th century and doubled in size at the end of the 19th century. The cemetery church of All Saints was built in 1724 and contains interesting wall-paintings from 1739. The monastery took a very active part in the Macedonian Struggle during the liberation of Greece from Ottoman Empire.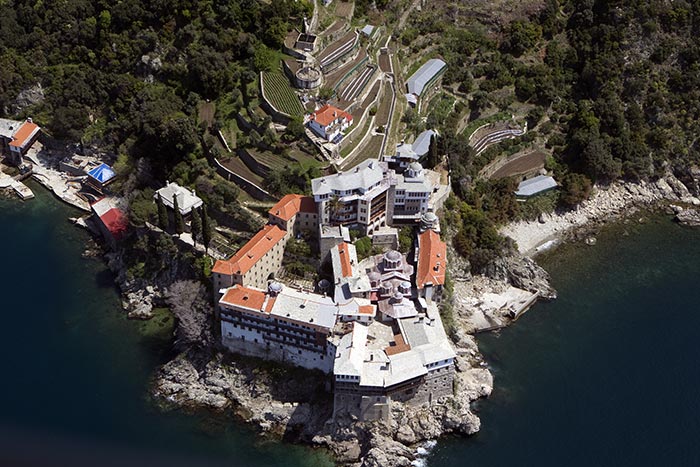 As noted above much of the older treasures of the monastery were lost in the fires of 1761 and the warfare of 1821. Those treasures that the monastery now holds are kept in the Katholikon. These treasures include icons of the Virgin Galatotrophousa and Virgin Pantanassa, relics of saints, and various liturgical objects.
The monastery library holds 297 manuscripts, many other documents, and some 4,000 books. These include the only existing manuscript copy of the Shepherd of Hermas a work that dates back to the 1st century AD.