Holy Monastery of Pantokratoros
The monastery was founded in 1357 by the brothers Alexios and John, respectively high military and civil officers of the Byzantine Empire. The Katholikon, dedicated to the Transfiguration, was built around 1363 and frescoed immediately afterwards.
The chapel of the Dormition of the Virgin was built and frescoed before 1538 and in 1614 the Katholikon was extended eastwards, the Typikaria were added and the extension was frescoed. The original wall-paintings were painted over and added to in 1854 by the neoclassicist Matthew Ioannou, but much of the 14th century work can still be seen. The refectory was built in 1741 and frescoed in 1749.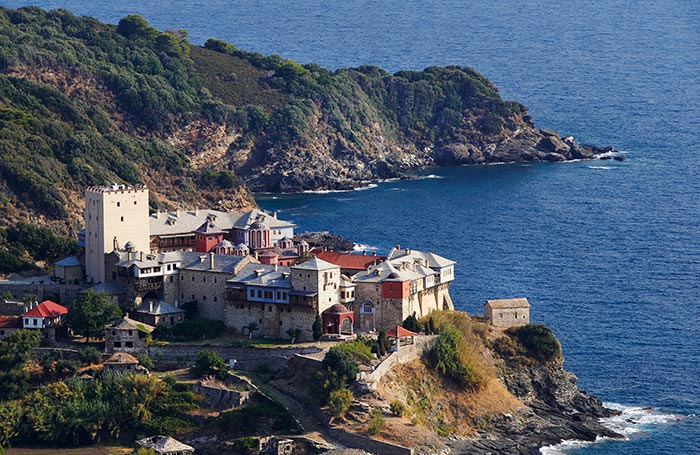 Notable among the monastery's relics are an embroidered epitaphios cloth and the large 14th century icons on the iconostasis. The miraculous icon of the Virgin Panagia Gerondisa (the Elder) is in the Katholikon (the main church). According to tradition the icon got this name because of a miracle that happened during one Holy Liturgy in the monastery. During the service, the voice of Virgin Mary came out of the icon urging the priest to be fast, so the dying Gerondas Igoumenos (The elderly Abbot) of the monastery could receive the communion and die in peace.
The Holy monastery of Pantokrator has jurisdiction of the Skiti of Prophet Elijah, most of the Kapsala community, the "Axion Estin" cell and the old monastery now a cell, of Ravdouchos, near Koutloumous.