Holy Monastery of Simonopetra
The monastery was founded in 1257 by the hermit Hosios Simon. The monastery is located in the southern coast of the Athos peninsula, between the Athonite port of Dafni and Hosios Gregorios monastery. It is built on top of a single huge rock, practically hanging from a cliff 330 meters over the sea.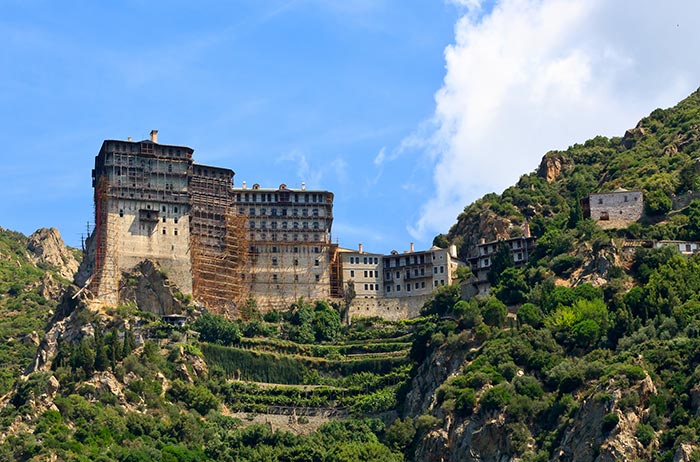 Tradition holds that Simon, while dwelling in a nearby cave, saw a dream in which the Theotokos (Virgin Mary) instructed him to build a monastery on top of the rock, promising him that she would protect and provide for him and the monastery. Simonopetra (as monastery is called by monks) was half finished when workers decided to abandon their work, scared to balance on the edge of the rock every day. Ready to leave, they saw the ipotaktikos (pupil) of Hosios Simon to slip and fall in to the canyon with all the food he was bringing to them. In no time, he showed up on the cliff unharmed. Then they trusted that it is God's will for the monastery to be built in this very location and went back to work.
In 1364, the Serbian despot Jovan Uglješa funded the renovation and expansion of the monastery. Russian pilgrim Isaiah wrote that, by the end of the 15th century, the monastery was Bulgarian.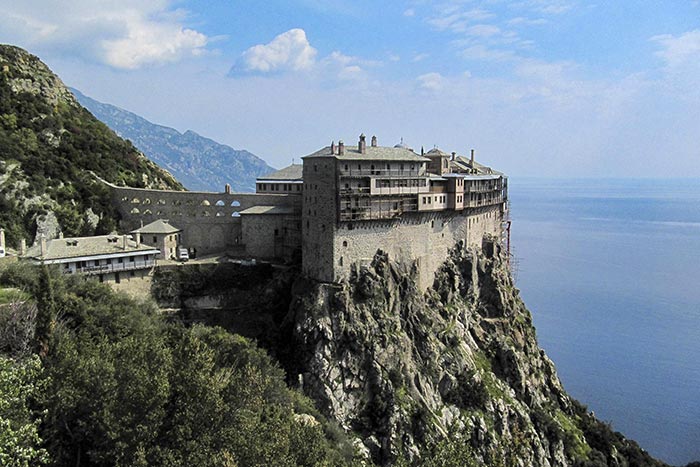 The monastery was never raided, because of his position, unlike the other monasteries of the Agion Oros. But it was severely damaged by the fires. In 1581, Simonopetra was destroyed by a fire, in which many monks died. Those who saved their lives managed to take with them treasury and with it the debts of the monastery of Xenophon were paid.
Evgenios, the monastery's Igoumenos (Abbot) traveled to the Danubian Principalities hoping to raise funds to rebuild the monastery. The most important donor was Michael the Brave, Prince of Wallachia, who donated large portions of land as well as money to the monastery. The monastery was also burnt in 1626, and the last great fire happened in 1891, after which the monastery was rebuilt to its current form.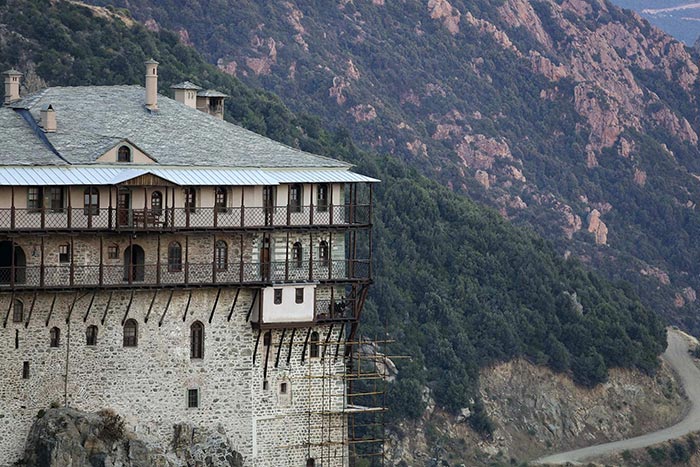 By 1970 only five monks were living in Simonopetra, situation changed, when a group of young monks from Meteora arrived to the monastery. They brought the monastery to life. The renovation works took place. Today in Mount Athos Simonopetra considered an elite monastery not due to the treasures it holds, but due to the level of education and spirituality of the monks.