Holy Monastery of Stavronikita
The monastery appears to have been founded in the early 11th century. In a document by the Protos Nicephorus dating back to 1012 there is the signature of a monk who signs as "Nicephorus monk from Stravonikita" (Νικηφόρος μοναχός ο του Στραβωνικήτα), while in a 1016 document, the same monk signs as "from Stavronikita" (του Σταυρονικήτα). This proves the existence of a Stavronikita monastery as late as the first half of the 11th century.
According to archaeologist Sotiris Kadas this means that the Stavronikita monastery was one of the monasteries that were founded or built during the first years of organized monastic life on Mount Athos. In the 13th century it was deserted, and later it was reduced to a cell.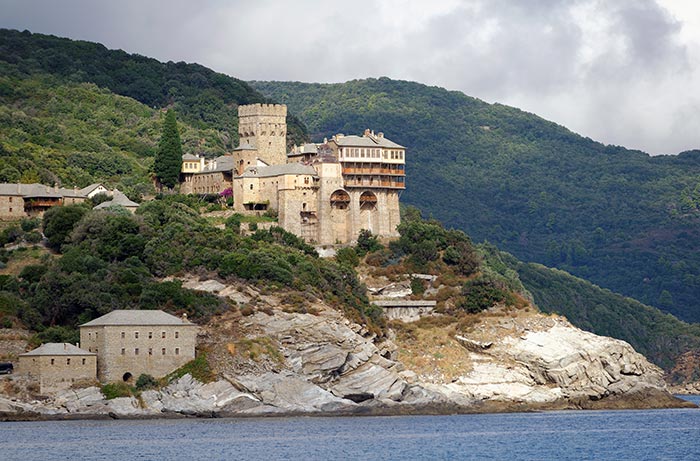 In 1536, the Patriarch Jeremiah I reinstalled it to the status of a monastery of Mount Athos, bringing their total number to 20. Therefore, Stavronikita became the last officially consecrated monastery of Athos and is usually referred as the last monastery to be added to the Athonite hierarchy.
During its history, the monastery had suffered of many misfortunes, Turkish raids (mostly due to the help monks were giving to the fighters of Greek War of Independence) and multiple fires.
The monastery experienced great economic difficulties. In 1967 there were living only 4 monks. The group of monks for the monastery of Iviron leaded by Aghio Paisio (Saint Paisios) arrived in the monastery and revived it.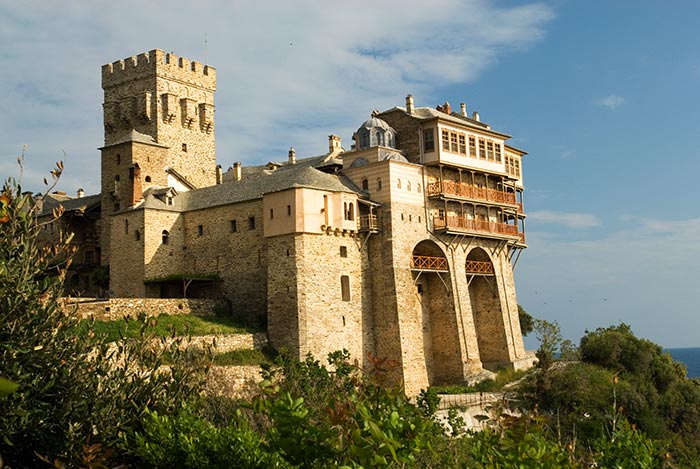 The Katholikon, dedicated to St. Nicholas, is the smallest Katholikon among its other Athonite counterparts. Was built in the 16th century immediately after Stavronikita again acquired monastic status, and was frescoed in 1546 by the famous Theophanes the Cretan. The refectory also contains wall-paintings attributed to Theophanes and his son Simeon.
The monastery keeps a widely known 14th century icon of Saint Nicholas, known as "Streidas" (Άγιος Νικόλαος ο Στρειδάς, "Saint Nicholas of the Oyster"). When it was accidentally discovered at the bottom of the sea, an oyster had stuck at the forehead of St. Nicholas. The mark of the oyster can be seen today.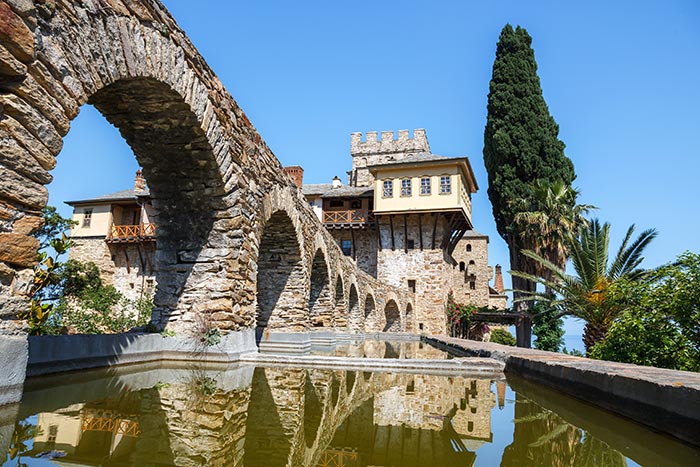 According to the Athonite tradition, the icon was stolen by pirates and when they removed all precious decoration from it, they had thrown the icon in the sea. There it stayed 300 years until was found by the fishing monks of the monastery. When the monks of Stavronikita removed the oyster, the saint's forehead bled.
Stavronikita has a collection of notable icons and holy relics. The monastery also has in its possession priestly garments, ritual objects and other valuables. Here is kept a collection of 171 manuscripts, out of which 58 are written on parchment. Some of the manuscripts bear notable iconography and decoration.