Holy Monastery of Xenophontos
The monastery was founded towards the end of the 10th century by Hosios Xenophon, apparently with funds supplied by Basil II. It stands by the sea, on the western shore of the Athos peninsula. The monastery is dedicated to St George and has 11 chapels inside and 6 outside. At the end of the 18th century the walls were extended, tripling the area covered by the monastery. The monastery was the first to come back to coenobitic system in 1783.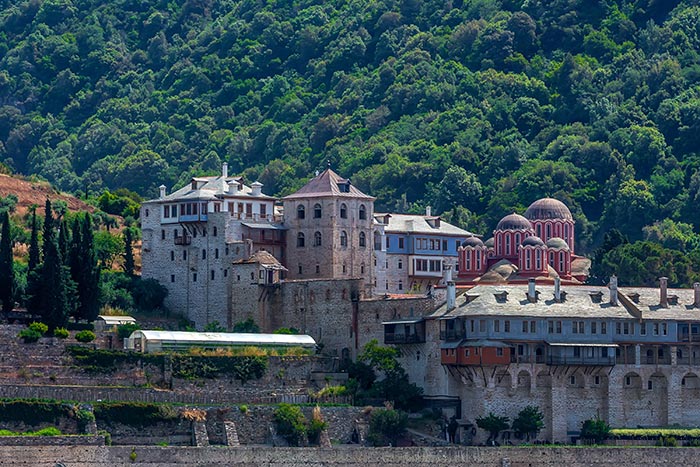 The old Katholikon was built around the year 1000, and both this church and the new Katholikon are dedicated to St George. The main body of the old Katholikon as frescoed by Antonios in 1544, the lite by a certain Theophanes in 1564, and the exonarthex in 1637. The chapel of St Demetrios dates from the 14th century, as do its wall-paintings. The refectory was frescoed in 1496.
The main church now, new Katholikon was built just prior to the Greek Revolution of 1821 and is in the neo-classical style. It is perhaps the largest on Mount Athos and has perfect acoustics. A large cross is suspended above the inner sanctum and the choirs of the monks do some of the best traditional Byzantine chanting in the whole peninsula; Vatopedi and Gregorios may be its only rivals.
The monastery is under reconstruction at present moment. Extensive renovations are being done with money provided by the Greek Government and the EC. The monastery ranks sixteenth in the hierarchy of the Athonite monasteries. The community has about 55 working monks. Most are Greek, with two senior monks being American.
The library contains c. 300 manuscripts and 4,000 printed books. Notable among the monastery's many relics are the two large mosaic icons of Saint George and Saint Demetrios and a small icon of the Transfiguration in steatite. The monastery has jurisdiction over the skiti of the Annunciation, the so-called "Xenophontini" skiti.