Holy Monastery of Xeropotamou
The monastery was founded in 956 and is the oldest surviving monastery on Mount Athos. The monastery is dedicated to the forty martyrs of Sebaste. It was founded by the monk Pavlos Xeropotaminos, and prospered till the Frankish conquest, when it was attacked and sacked by pirates.
In the late Byzantine period it is financially supported by the Palaiologan dynasty as well as Serbian rulers. After the fall of Byzantium, the Turkish raids, and two destructive fires in 1507 and 1609 the monastery was slowly decaying.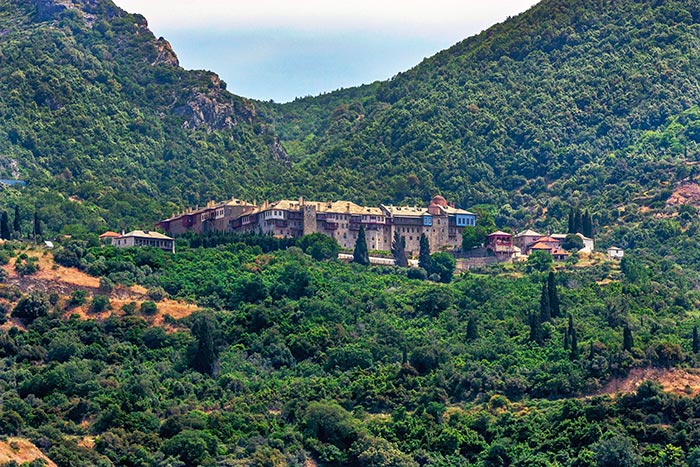 Due to the unstable ground on which the monastery is built, it has suffered and is still suffering serious damage, an example of this is the Katholikon (dedicated to the Forty Martyrs), which must have been built in the 10th century, and was rebuilt from the foundations at the end of the 13th century, perhaps in 1445, in the mid-16th century, and once again in 1763, by Kaisarios Daponte, who contributed a lot to the monastery. It was frescoed in 1783.
Xeropotamos houses numerous relics, the most prominent being the largest extant piece of the True Cross. For this reason, the monastery also celebrates a patronal feast day on September 14, the feast of the Elevation of the Holy Cross. The monastery's another rare relic a small round steatite icon, known as the Pulcheria Disk. The library contains 409 manuscripts, and about 600 printed books. The monastery owns the installations at Dafni, the port of Mount Athos.